100% Free
Document eSign Software
Easy, secure, and effective document eSignature solutions
Signup now →
Free forever,
No credit card required
Electronic signatures are fast and easy with Document eSign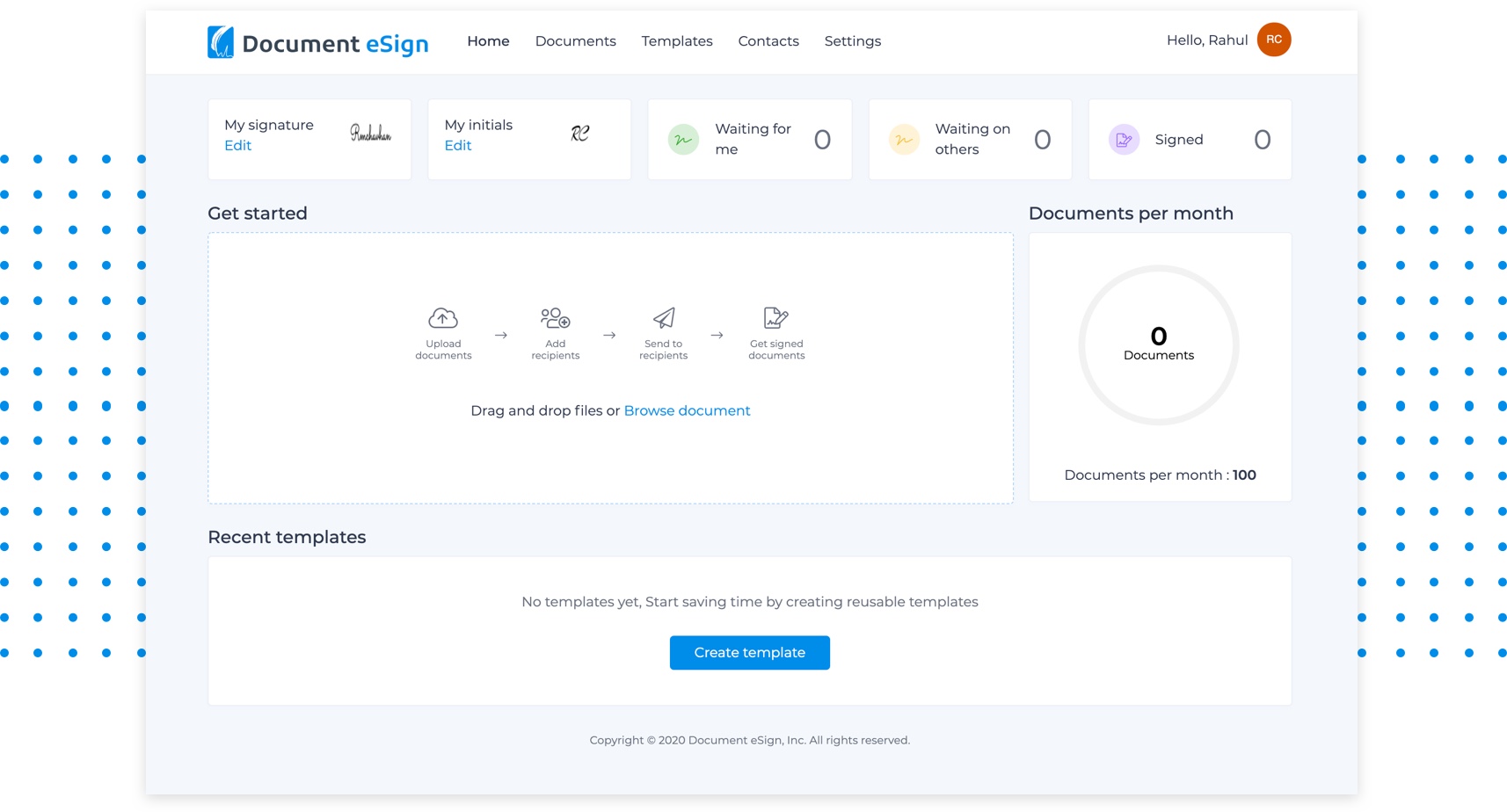 Easy to use digital signature
Skip printing, scanning, faxing to collect signatures, upgrade to Document eSign's perfect esign solution to sign your documents digitally with just a few clicks.
Invite signers made easy
Invite your partners, customers and employees for document signing in just two clicks. Get their legally binding signatures in just minutes and close your deals Faster.
Extensive template library
Automate your PDF eSign process to save countless hours on manual paperwork. Present yourself professionally by hassle free coordination of singing documents.
Sign the way you want
Generate signatures that are either drawn, typed or import it as a picture. Collect eSignatures that are legally binding from any device. Document eSign ensures a safest way to close a deal.
Seamless integration
Document eSign is flexibly integrated with a broad suite of your favorite third party applications like – Salesforce, Dropbox, Google Drive, Microsoft Dynamics.
Complete security
Send and receive contracts, agreements, and other eSign documents with utmost security & ensures a safest way to close a deal sining document esign online.
eSign documents online for free
Cloud integration support
Add / Upload document
Create a new document or work on the existing templates, and upload the document that needs to be signed.
Add recipients
Add the number of signees, sign the document yourself if needed by typing, drawing on your device.
Manage documents
Manage your esign documents by tracking the activities between the signers, keeping malpractices at bay
Signer's consent
Recipients draw, type or upload their signatures on your documents from any device at their disposal.
Streamline digital transformation for all industries